Abecední index



























Aerosmith - Box Of Fire (Limited Edition 12CD Box)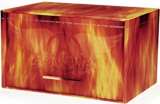 Typ zboží: Hudba
Nosič: (12)
Vydavatel: Columbia
Vydáno: 22.11.1994
EAN/UPC: 0074646668726
Objednací kód: 2007284
Běžná cena: 5990 Kč
Naše cena: 5391 Kč (vč. DPH)
Ušetříte: 599 Kč (10%)

5 TRACK BONUS DISC OF AERO RARITIES
AEROSMITH Box Of Fire (2000 US limited edition remastered 12-CD box set including the 7 classic studio albums Live Bootleg Live Classics I & II Greatest Hits & Gems. Also included is a 5-track bonus disc of rare & previously unreleased material. Each SEALED disc comes with original LP artwork liner notes vintage press clippings & behind the scenes studio notes. Housed in an amazing flame covered box with matchstick handle!
Potřebujete podrobnější informace k tomuto titulu?
Napište nám
.
Seznam skladeb
| | |
| --- | --- |
| 1. | Make It |
| 2. | Somebody |
| 3. | Dream On |
| 4. | One Way Street |
| 5. | Mama Kin |
| 6. | Write Me |
| 7. | Movin' Out |
| 8. | Walkin' The Dog |
| 1. | Same Old Song And Dance |
| 2. | Lord Of The Thighs |
| 3. | Spaced |
| 4. | Woman Of The World |
| 5. | S.O.S. (Too Bad) |
| 6. | Train Kept A Rollin' |
| 7. | Seasons Of Wither |
| 8. | Pandora's Box |
| 1. | Toys In The Attic |
| 2. | Uncle Salty |
| 3. | Adam's Apple |
| 4. | Walk This Way |
| 5. | Big Ten Inch Record |
| 6. | Sweet Emotion |
| 7. | No More No More |
| 8. | Round And Round |
| 9. | You See Me Crying |
| 1. | Back In The Saddle |
| 2. | Last Child |
| 3. | Rats In The Cellar |
| 4. | Combination |
| 5. | Sick As A Dog |
| 6. | Nobody's Fault |
| 7. | Get The Lead Out |
| 8. | Lick And A Promise |
| 9. | Home Tonight |
| 1. | Draw The Line |
| 2. | I Wanna Know Why |
| 3. | Critical Mass |
| 4. | Get It Up |
| 5. | Bright Light Fright |
| 6. | Kings And Queens |
| 7. | The Hand That Feeds |
| 8. | Sight For Sore Eyes |
| 9. | Milk Cow Blues |
| 1. | Back In The Saddle |
| 2. | Sweet Emotion |
| 3. | Lord Of The Thighs |
| 4. | Toys In The Attic |
| 5. | Last Child |
| 6. | Come Together |
| 7. | Walk This Way |
| 8. | Sick As A Dog |
| 9. | Dream On |
| 10. | Chip Away The Stone |
| 11. | Sight For Sore Eyes |
| 12. | Mama Kin |
| 13. | S.O.S. |
| 14. | I Ain't Got You |
| 15. | Mother Popcorn |
| 16. | Train Kept A Rollin'/Strangers In The NIght |
| 1. | No Surprize |
| | |
| --- | --- |
| 2. | Chiquita |
| 3. | Remember (Walking In The Sand) |
| 4. | Cheese Cake |
| 5. | Three Mile Smile |
| 6. | Reefer Head Woman |
| 7. | Bone To Bone (Coney Island White Fish Boy) |
| 8. | Think About It |
| 9. | Mia |
| 1. | Dream On |
| 2. | Same Old Song And Dance |
| 3. | Sweet Emotion |
| 4. | Walk This Way |
| 5. | Last Child |
| 6. | Back In The Saddle |
| 7. | Draw The Line |
| 8. | Kings And Queens |
| 9. | Come Together |
| 10. | Remember (Walking IN The Sand) |
| 1. | Jailbait |
| 2. | Lightning Strikes |
| 3. | Bitch's Brew |
| 4. | Bolivian Ragamuffin |
| 5. | Cry Me A River |
| 6. | Prelude To Joanie |
| 7. | Joanie's Butterfly |
| 8. | Rock In A Hard Place (Cheshire Cat) |
| 9. | Jig Is Up |
| 10. | Push Comes To Shove |
| 1. | Train Kept A Rollin' |
| 2. | Kings And Queens |
| 3. | Sweet Emotion |
| 4. | Dream On |
| 5. | Mama Kin |
| 6. | Three Mile Smile/Reefer Head Woman |
| 7. | Lord Of The Thighs |
| 8. | Major Barbra |
| 1. | Back In The Saddle |
| 2. | Walk This Way |
| 3. | Movin' Out |
| 4. | Draw The Line |
| 5. | Same Old Song And Dance |
| 6. | Last Child |
| 7. | Let The Music Do The Talking |
| 8. | Toys In The Attic |
| 1. | Rats In The Cellar |
| 2. | Lick And A Promise |
| 3. | Chip Away The Stone |
| 4. | No Surprize |
| 5. | Mama Kin |
| 6. | Adam's Apple |
| 7. | Nobody's Fault |
| 8. | Round And Round |
| 9. | Critical Mass |
| 10. | Lord Of The Thighs |
| 11. | Jailbait |
| 12. | Train Kept A Rollin' |
| 1. | Sweet Emotion (1991) |
| 2. | Rocking Pneumonia And The Boogie Woogie Flu |
| 3. | Subway |
| 4. | Circle Jerk |
| 5. | Dream On (MTV Anniversary) |

Hlídací pes - zasílání novinek:
Přehled všech Vámi zadaných položek naleznete zde

Vydavatel: 
Geffen
 | Vydáno:
3.1.2002

Cena:
286 Kč


Vydavatel: 
Sony
 | Vydáno:
26.6.2006

Cena:
286 Kč


Vydavatel: 
Sony
 | Vydáno:
20.7.1988

Cena:
122 Kč


Vydavatel: 
Sony
 | Vydáno:
30.6.1990

Cena:
122 Kč


Vydavatel: 
Geffen
 | Vydáno:
3.1.2002

Cena:
248 Kč


Vydavatel: 
Columbia
 | Vydáno:
10.12.2008

Cena:
239 Kč


Vydavatel: 
Geffen
 | Vydáno:
25.5.2000

Cena:
286 Kč


Vydavatel: 
Geffen
 | Vydáno:
3.1.2002

Cena:
286 Kč


Vydavatel: 
Sony
 | Vydáno:
1.11.2012

Cena:
193 Kč


Vydavatel: 
Sony
 | Vydáno:
14.12.2000

Cena:
122 Kč

Nejbližší tituly v katalogu:

Vydavatel: 
Universal
 | Vydáno:
20.11.2000

Cena:
540 Kč


Vydavatel: 
Sanctuary Productions
 | Vydáno:
30.6.1990

Cena:
499 Kč