Abecední index



























Story Carl - A Life In Rural Music 1942-1952
   Carl Story and his Ramblin' Mountaineers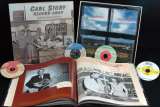 Typ zboží: Hudba
Nosič: (5)
Vydavatel: Bear Family
Vydáno: 29.8.2011
EAN/UPC: 4000127168399
Objednací kód: 1731134
Běžná cena: 3439 Kč
Naše cena: 3095 Kč (vč. DPH)
Ušetříte: 344 Kč (10%)

katalogové číslo: DK 16839
původ: import (EU)
interpret: Story Carl
4-CD boxed set (LP-size) with 112-page hardcover book. 134 tracks. Playing time approx. 5 hrs 29 mns.
The last major bluegrass star from the music's early days to be reissued! The first time this music has been reissued since the LP era! Includes many bluegrass classics, and Story's complete recordings from 1947-1959 plus ultra-rare radio and home recordings from 1942! Including 25 previously unissued songs and takes. -- Nearly all of the giants of bluegrass music's early days have all seen their work reissued in full. Bill Monroe, Flatt & Scruggs, the Stanley Brothers, and others have all seen anthologies... often multiple anthologies... devoted to their careers. Carl Story has not been so fortunate. Most of his classic early recordings disappeared along with 45s and 78s, and others haven't been heard since the LP era. Yet Carl Story truly was a bluegrass pioneer, and his Ramblin' Mountaineers included Red Rector, Tater Tate, Claude Boone, Bobby Thompson, and Bud and Willie Brewster, all of them heard on this collection. -- Carl Story began his career in the flourishing Knoxville scene and carved out a nich as the Father of Bluegrass Gospel. He made either the first or best recordings of 'Light At The River', 'Family Reunion', 'I've Found A Hiding Place', 'Keep On The Firing Line', 'My Lord Keeps A Record', 'He Will Set Your Fields On Fire', 'Gone Home', 'Angels Rock Me To Sleep' and Hank Williams' 'Are You Walking And Talking For The Lord'. Story's Ramblin' Mountaineers also recorded the version of 'Duelin' Banjos' that became the model for the 1972 hit recording. -- This set includes every recording that Carl Story made for Mercury, Starday, and Columbia together with all of his Starday recordings from 1958 and '59, plus some ultra-rare demos recorded before World War II, proving that Carl Story was at the heart of the music that became bluegrass. -- The 4-CD set also includes a full-length book with Colin Escott's biography of Carl Story and Neil Rosenberg's and Eddie Stubbs' comprehensive discography. -- The last word on one of the first names in bluegrass music!
Potřebujete podrobnější informace k tomuto titulu?
Napište nám
.
Seznam skladeb
| | |
| --- | --- |
| 1. | You're A Prisoner In My Heart |
| 2. | I Wanna Be A Railroad Man |
| 3. | She's A Two-Timin' Woman |
| 4. | Who's That Man |
| 5. | I've Found A Hiding Place |
| 6. | He's Waiting There |
| 7. | Keep On The Firing Line |
| 8. | I Heard My Name On The Radio |
| 9. | Heaven's My Home |
| 10. | I'm Pressing On |
| 11. | I'm Gonna Change My Way Of Living |
| 12. | The Circle Was Broken |
| 13. | I Heard My Mother Weeping |
| 14. | Love Is A Game |
| 15. | I Watched You Walk Away |
| 16. | Women Are Still The Same |
| 17. | My Lord Keeps A Record |
| 18. | Everytime Somebody Call Your Name |
| 19. | Heaven's Inside |
| 20. | Tennessee Border |
| 21. | You're A Prisoner In My Heart (Bonus Track) |
| 22. | He's Waiting There (Bonus Track) |
| 23. | Love Is A Game (Bonus Track) |
| 24. | Everytime Somebody Call My Name (Bonus Track) |
| 25. | Everytime Somebody Call My Name (Bonus Track) |
| 26. | Everytime Somebody Call My Name (Bonus Track) |
| 27. | Heaven's Inside (Bonus Track) |
| 28. | Heaven's Inside (Bonus Track) |
| 29. | Tennessee Border (Bonus Track) |
| 30. | Tennessee Border (Bonus Track) |
| 31. | Tennessee Border (Bonus Track) |
| 1. | Will There Be A Traffic Light? |
| 2. | When He Reached Down His Hand For Me |
| 3. | New Jerusalem Way |
| 4. | Why Don't You Haul Off And Get Religion? |
| 5. | He Will Set Your Fields On Fire |
| 6. | You Can't Believe Everything You Hear |
| 7. | No End To Heaven |
| 8. | That Day Is Coming Soon |
| 9. | Faded Love |
| 10. | Four Books In The Bible |
| 11. | From The Manger To The Cross |
| 12. | I'll Never Go Back |
| 13. | The Old Country Preacher |
| 14. | If You Don't Love Your Neighbour |
| 15. | You'll Find Me There |
| 16. | I'm Heaven Bound |
| 17. | When The Pearly Gates Swing Open |
| 18. | God Saved My Soul |
| 19. | God Had A Son In Service |
| 20. | Trouble And Trials |
| 21. | Mighty Close To Heaven |
| 22. | My Lord's Gonna Lead Me Out |
| 23. | Are You Afraid To Die? |
| 24. | Are You Walkin' And Talkin' With The Lord |
| 25. | Follow Him |
| 26. | I'll Live With God |
| 27. | They Have Gone Home |
| 28. | Who Will Sing For Me? |
| 29. | Angels Rock Me To Sleep |
| 30. | You Can't Believe Everything You Hear (Bonus Track) |
| 31. | You Can't Believe Everything You Hear (Bonus Track) |
| 32. | No End To Heaven (2 false starts and alt. take - Bonus Track) |
| 1. | Are You Washed In The Blood |
| 2. | Just Over In The Glory Land |
| 3. | Where The Soul Never Dies |
| 4. | No Drunkard Can Enter Here |
| | |
| --- | --- |
| 5. | The Lord Will Make A Way Somehow |
| 6. | Lord Lead Me On |
| 7. | Way Down Deep In My Soul |
| 8. | The Land Of Eternal Peace |
| 9. | My Lord Keeps A Record |
| 10. | Love And Wealth |
| 11. | Lonesome Hearted Blues |
| 12. | Someone To Lean On |
| 13. | Action Speaks Louder Than Words |
| 14. | Step It Up And Go |
| 15. | Have You Come To Say Goodbye |
| 16. | It's A Lonesome Road |
| 17. | A Million Years In Glory |
| 18. | On The Other Shore |
| 19. | I Love The Hymns They Sang |
| 20. | Love Me Like You Used To Do |
| 21. | What A Line |
| 22. | You've Been Tom-Cattin' Around |
| 23. | One Little Word |
| 24. | Don't You Hear Jerusalem Mourn |
| 25. | Reunion In Heaven |
| 26. | It Won't Be Long |
| 27. | Everybody Will Be Happy Over There |
| 28. | Echoes From The Burning Bush |
| 29. | Waiting For Me |
| 30. | By The Hands Of God |
| 31. | Mother Is Old |
| 32. | Road Of Prayer |
| 33. | God Put A Rainbow In The Clouds |
| 34. | Gat On Board, Little Children |
| 1. | Got A Lot To Tell My Jesus |
| 2. | Light At The River |
| 3. | Mocking Banjo |
| 4. | Banjo On The Mountain |
| 5. | Saviour's Love |
| 6. | Family Reunion |
| 7. | Banjolina |
| 8. | Fire On The Banjo |
| 9. | Who Will Sing For Me |
| 10. | Old Country Baptizing |
| 11. | Paul And Silas |
| 12. | Angel Band |
| 13. | Don't You Love Your Daddy, Too |
| 14. | For My Lord |
| 15. | Old Gospel Ship |
| 16. | Shout And Shine |
| 17. | A Beautiful City |
| 18. | Set Your House In Order |
| 19. | Old Time Religion |
| 20. | A Beautiful Life |
| 21. | Life Boat |
| 22. | I'll Be A Friend |
| 23. | This Lonesome Road |
| 24. | Hide Me |
| 25. | The Circle Was Broken |
| 26. | I Heard My Mother Weeping |
| 27. | Be Kind To Mother |
| 28. | My Lord's Gonna Lead Me Out |
| 29. | Suicide Blues (private recording 1942) |
| 30. | New San Antonio Rose (private recording 1942) |
| 31. | She'll Be Happy In Her Home Sweet Home (private recording 1942) |
| 32. | Farm Hour Comedy (private recording 1942) |
| 33. | Dear Old Sunny South By The Sea (private recording 1942) |
| 34. | Shout Lulu (private recording 1942) |
| 35. | Florida Blues (private recording 1942) |
| 36. | Great Shining Light (private recording 1942) |
| 37. | Great Speckled Bird (private recording 1942) |

Hlídací pes - zasílání novinek:
Přehled všech Vámi zadaných položek naleznete zde
Nejbližší tituly v katalogu:

Vydavatel: 
Crazy Love
 | Vydáno:
23.2.2017

Cena:
642 Kč


Vydavatel: 
Bear Family
 | Vydáno:
29.8.2011

Cena:
521 Kč